Products - SHORT WAVE INFRARED HEATER.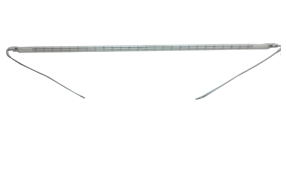 Infrared heat is transmitted directly in the form of electromagnetic rays, at a velocity of approx. 300,000 km/sec: i.e. at the speed of light but is also suitable for particularly demanding applications such as Vacuum technology and clean room conditions. Infrared heat is particularly economical on energy as compared to other heat sources because it acts quickly, directly on products. Short Wave IR emitters are suitable for all applications in which the attainment of high temperatures in the shortest possible time.
Lakshmiheaters Manufacturers & Exports CIR Infrared Heaters, Infrared Lamps, Infrared heating lamps, Ceramic Infrared heaters, Ceramic Infrared Heating Elements, Industrial Infrared heating, Energy Efficient Infrared Heaters, Quartz Infrared heaters, Short Wave Infrared heaters, Medium Wave Infrared heaters, Infrared heating Modules, Infrared heating panels, Quartz Space heater, Twin Tube Medium Wave Infrared heaters, Radiant heaters and Quartz Infrared heater Elements.
Application
Heaters for PET preform heating in stretch blow molding machines.
Heaters for Soldering fusing in PCB industries.
Heaters for Sterilizing.
Heaters for Ink drying in offset printing machines.
Powder /Paper coating drying/curing heaters.
Heaters for Rubber coating & drying.
Screen printing .
Heaters for Paint baking.