Products - MEDIUM WAVE INFRARED HEATER.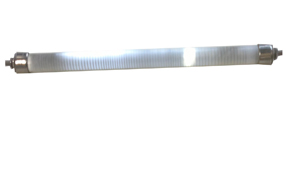 Medium Wave Infrared (Quartz) Heaters consist of a helically wound resistance coil housed in a pure vitreous silica fused quartz tube. The Quartz tubing is terminated with specially designed insulating caps, which are securely fastened to the quartz tube with high temperature cement providing excellent support to the power connecting termination. Quartz Heaters are designed to be used in a horizontal position only. Quartz Heaters are available in various diameters like 8,10,12,15,19 mm & length 300 to 1500 mm.
Lakshmiheaters Manufacturers & Exports CIR Infrared Heaters, Infrared Lamps, Infrared heating lamps, Ceramic Infrared heaters, Ceramic Infrared Heating Elements, Industrial Infrared heating, Energy Efficient Infrared Heaters, Quartz Infrared heaters, Short Wave Infrared heaters, Medium Wave Infrared heaters, Infrared heating Modules, Infrared heating panels, Quartz Space heater, Radiant heaters, Twin Tube Medium Wave Infrared heaters and Quartz Infrared heater Elements.
Applications:
Heaters for Thermoforming/ Vacuum Forming Machines.
Heaters for Plastic forming Machine.
Heaters for Shrink packaging tunnels.
Heaters for Lamination/ lamination Machines.
Curing rubber heaters.
Drying textiles heaters.
Heaters for Drying lacquers and paints.