Products - ENERGY SAVING CERAMIC BAND HEATER
ENERGY SAVING CERAMIC BAND HEATER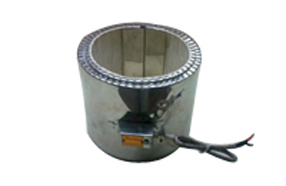 Lakshmiheater's Energy Saving Ceramic Band Heater have ceramic band heater with 15mm or 25mm thick Ceramic fiber insulation blanket. These heaters are designed for higher operating temperatures with maximum energy conservation. These heaters are, in effect, high temperature electric furnaces capable of very efficient heat transfer by conduction, convention and radiation.
Heaters with various terminal options are also available. Clamping for the heaters is by bent-up flanges.
Advantages with Ceramic Insulation Blanket
Conserves Energy.
Reduces Power Consumption of heaters by 25-30% thereby reducing Electricity bills by 10-15%.
Reduces initial heat up time of machines.
Working atmosphere remains cooler for the operator.
Application
Blow Molding Machines.
Injection Molding Machines.
Extruders
Blow Film Dies and Various cylindrical applications.